Convention 2013 International Guest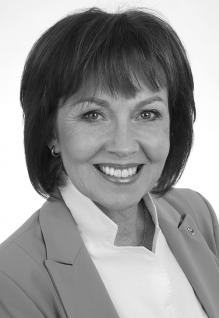 Lion Gudrun Yngvadottir, from Gardabaer, Iceland has been a member of the Gardabaejar Eik Lions Club since 1992. Since then she has held many offices including club president, district governor, multiple district LCIF coordinator, leadership development chair and coordinator for the Lions Leadership Institute in Iceland. She has also served as a faculty member and presented at numerous Lions Leadership Institutes, Faculty Development Institutes and international conventions.
In recognition of her service, she has received numerous awards and is a Progressive Melvin Jones Fellow.
Professionally Gudrun is vice director of the Institute of Continuing Education at the University of Iceland and is active in numerous professional and community organisations, including the Icelandic Association of Biomedical Scientists, Icelandic Association of Academics and the Association of Icelandic University Teachers.
Together with her husband, Dr Jon Bjarni Thorsteinsson, also a past international director and a Progressive Melvin Jones Fellow, they have a son and a daughter and five grandchildren.